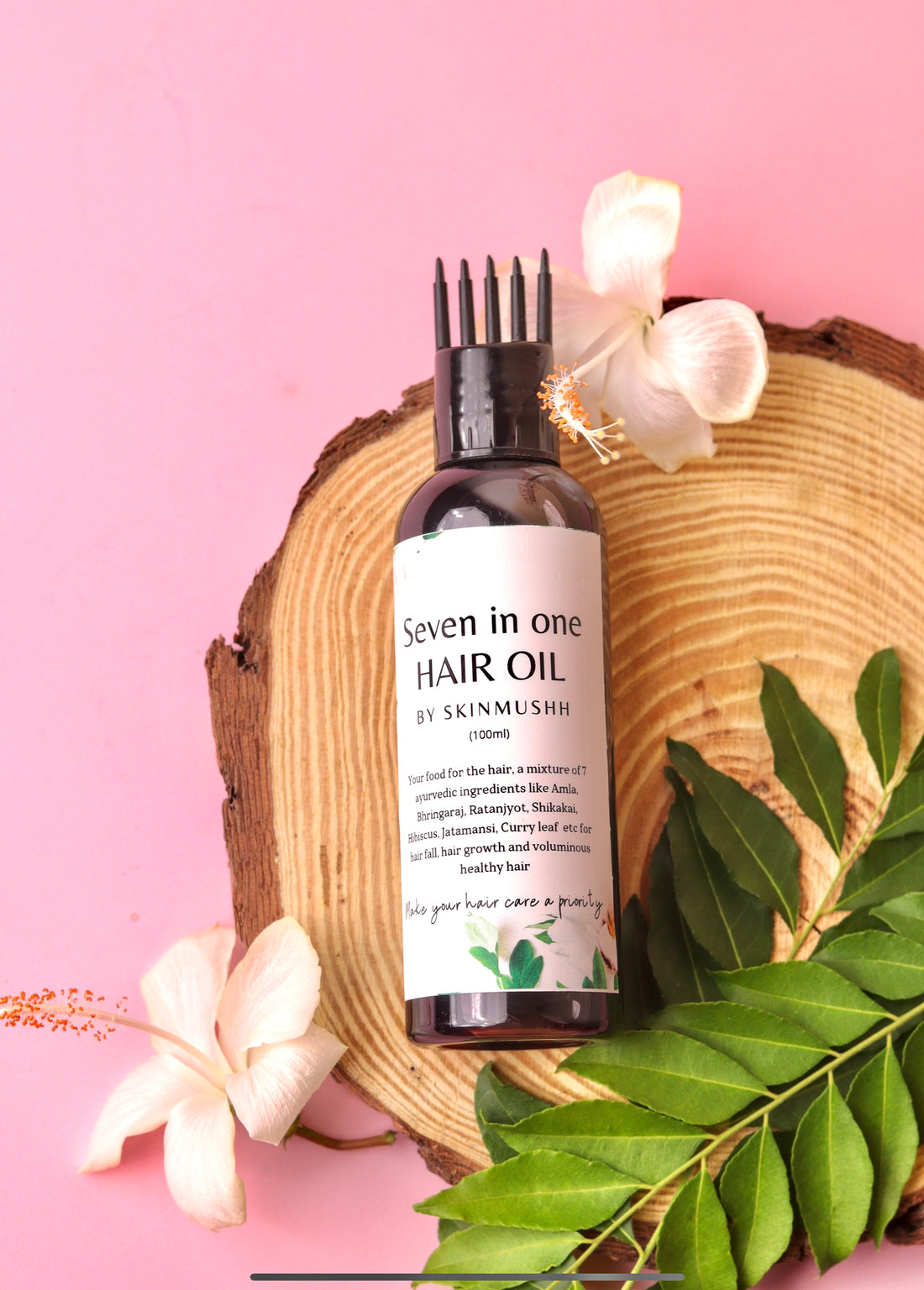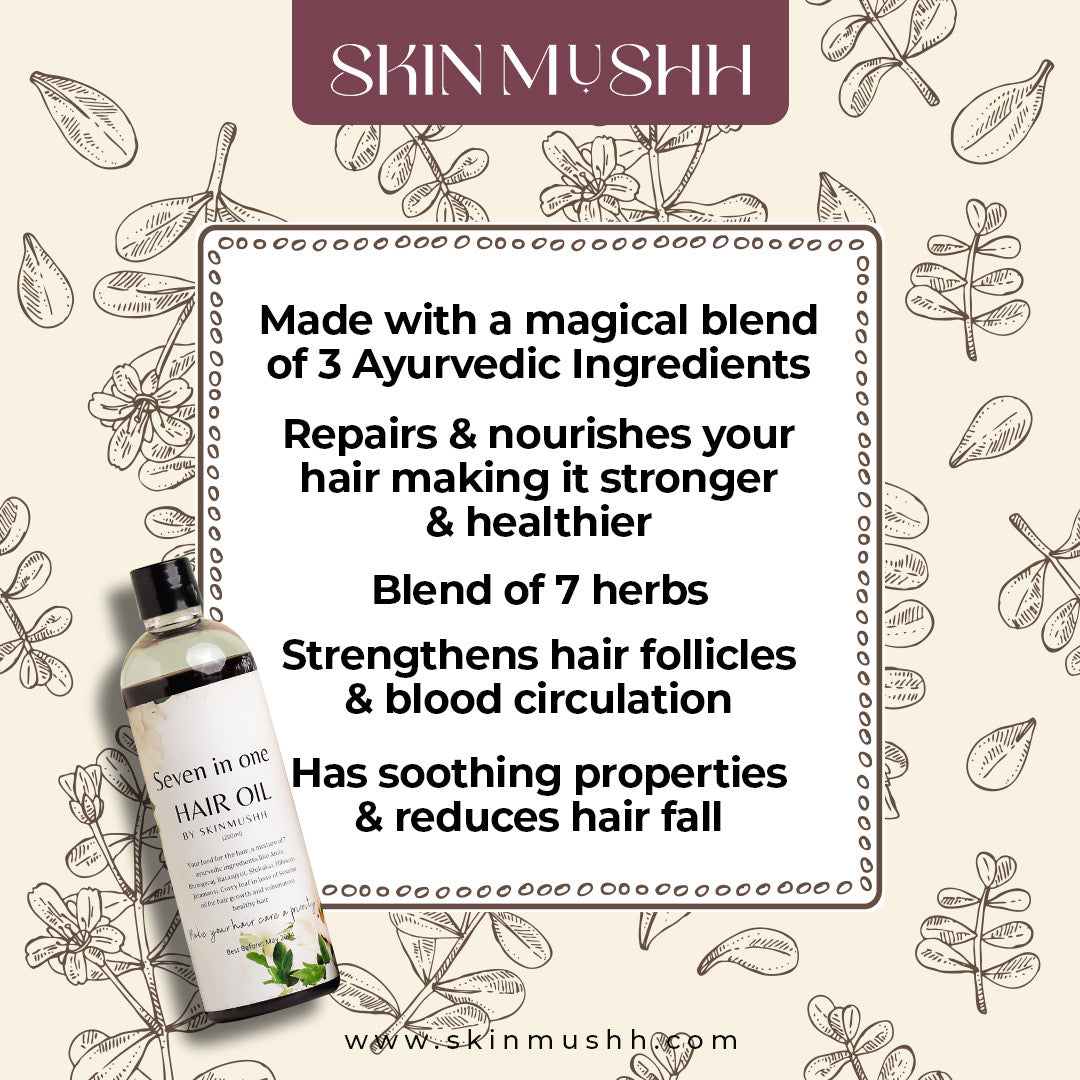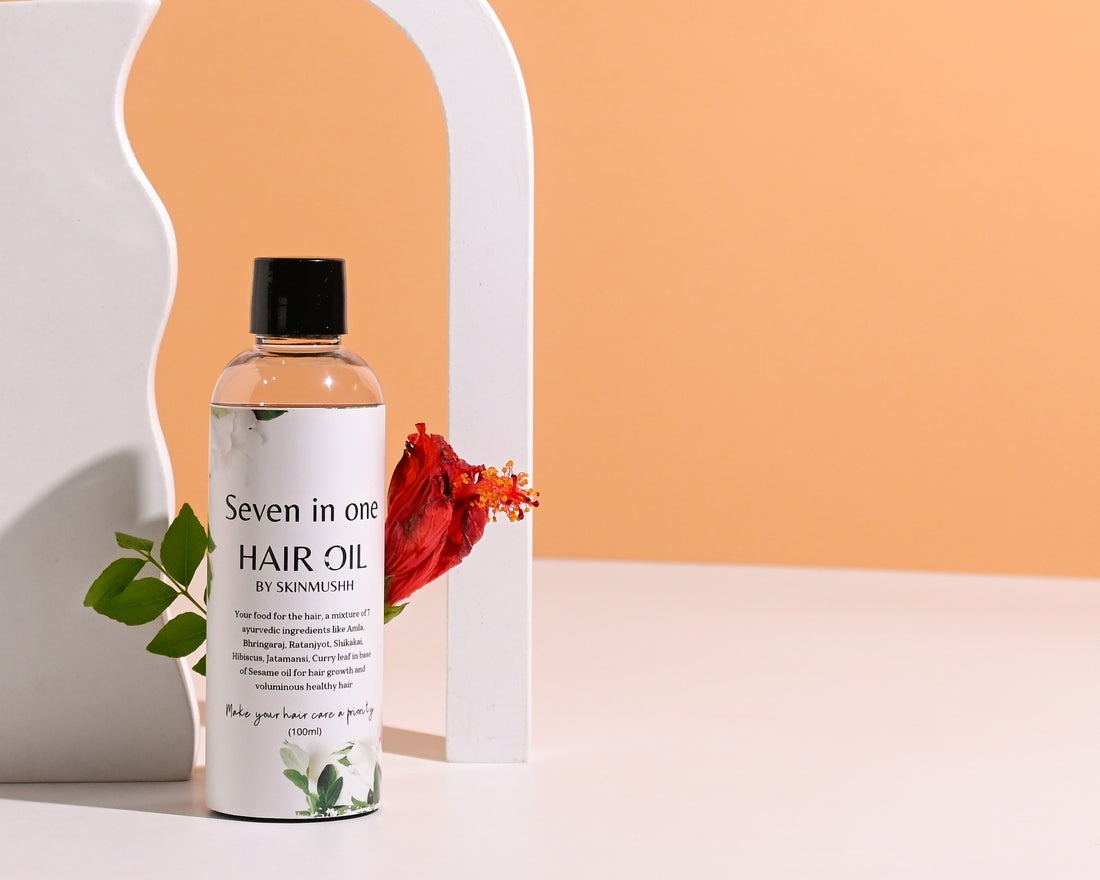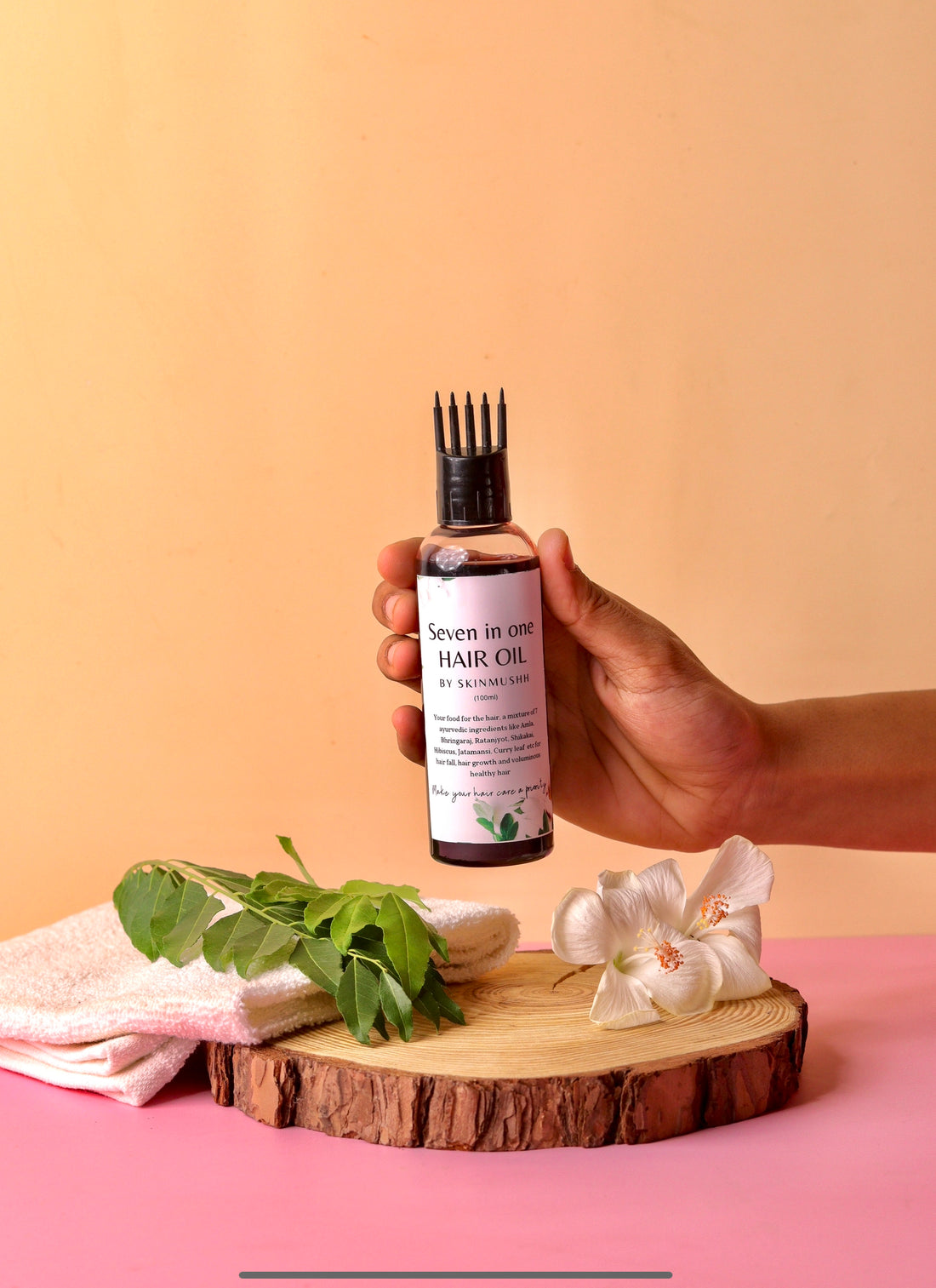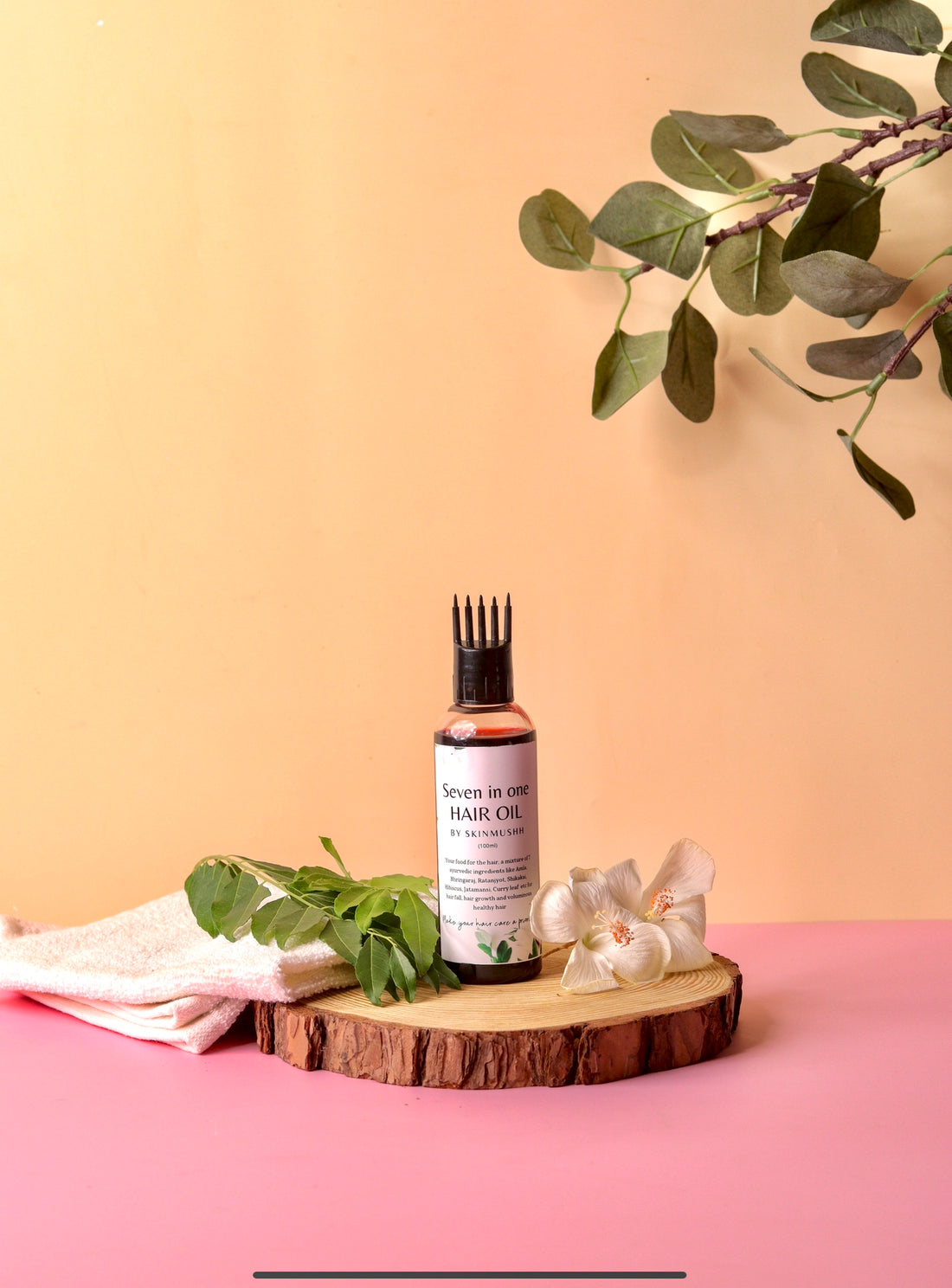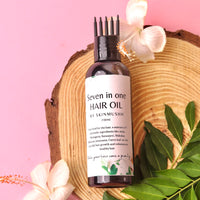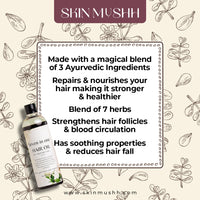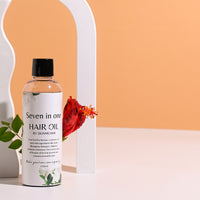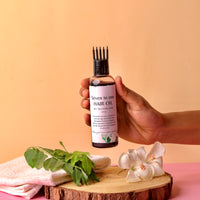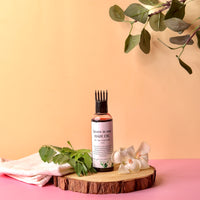 Our Seven in one hair oil is a unique blend of seven precious and powerful ingredients extremely necessary for beautiful and voluminous hair.

A concoction of hibiscus, amla, bhringraj ratanjot jatamansi, curry leaves and orange. This powerful blend of seven powerful oils effectively repairs damaged hair and controls hair fall.
This oil helps to solve many hair problems like treating dandruff, preventing baldness, preventing premature greying, preventing hair fall, and repairing damaged hair. It also promotes healthy hair growth, making it more lustrous and thick. According to ayurveda, the secret of beautiful hair lies in regularly massaging your hair.
The essential 7 herbs are:
Hibiscus: This is the main ingredient which stimulates hair growth, helps in treating dandruff and deeply conditions your hair
Amla: Strengthens the scalp
Bhringraj: Prevents hair fall
Ratanjot: Restores and strengthens your scalp
Jatamansi: Promotes hair growth and nourishes the hair
Curry leaves: Makes your hair stronger and prevents getting dandruff
Benefits:
This oil is dense and can penetrate deep into the scalp and treat dryness.

It can be warmed and applied to your hair to treat dandruff. It also provides relief from itchiness and greasiness caused by dandruff.

Regular massage with this oil improves blood circulation, and strengthens the hair follicles and prevents baldness.

The nutrients present in this oil help in facilitating the growth of hair.

This oil has soothing properties, thus relaxes your mind and prevents stress-inducing hair fall.

Our oil is a great agent for repairing damaged hair caused by extreme use of styling products, chemicals etc.

This oil is rich in nutrients which provides deep conditioning of hair and brings out the natural shine and gloss.

It also prevents greying of hair, making it more shiny and black.
How to use:
Our Seven in one hair oil is very easy to use. First comb your hair and part it in two sections from the middle. Now take one section and and start applying oil in the roots of the hair with your fingertips. Repeat the same with the other section. After applying the oil to your whole head, start massaging it for a while. Now again comb your hair and tie it with a band.
Why you should buy this:
The ingredients in the Seven in one hair oil is itself the reason why you should buy this product. Getting a one stop solution for all hair problems is not easy in today's world. It can give you the ultimate relief from many stubborn hair problems. So to get relief from all those problems opt for our Seven in one hair oil.   

Benefit of 7 ingredients in one oil, makes it an ultimate choice for your hair repair.
Grab it now!