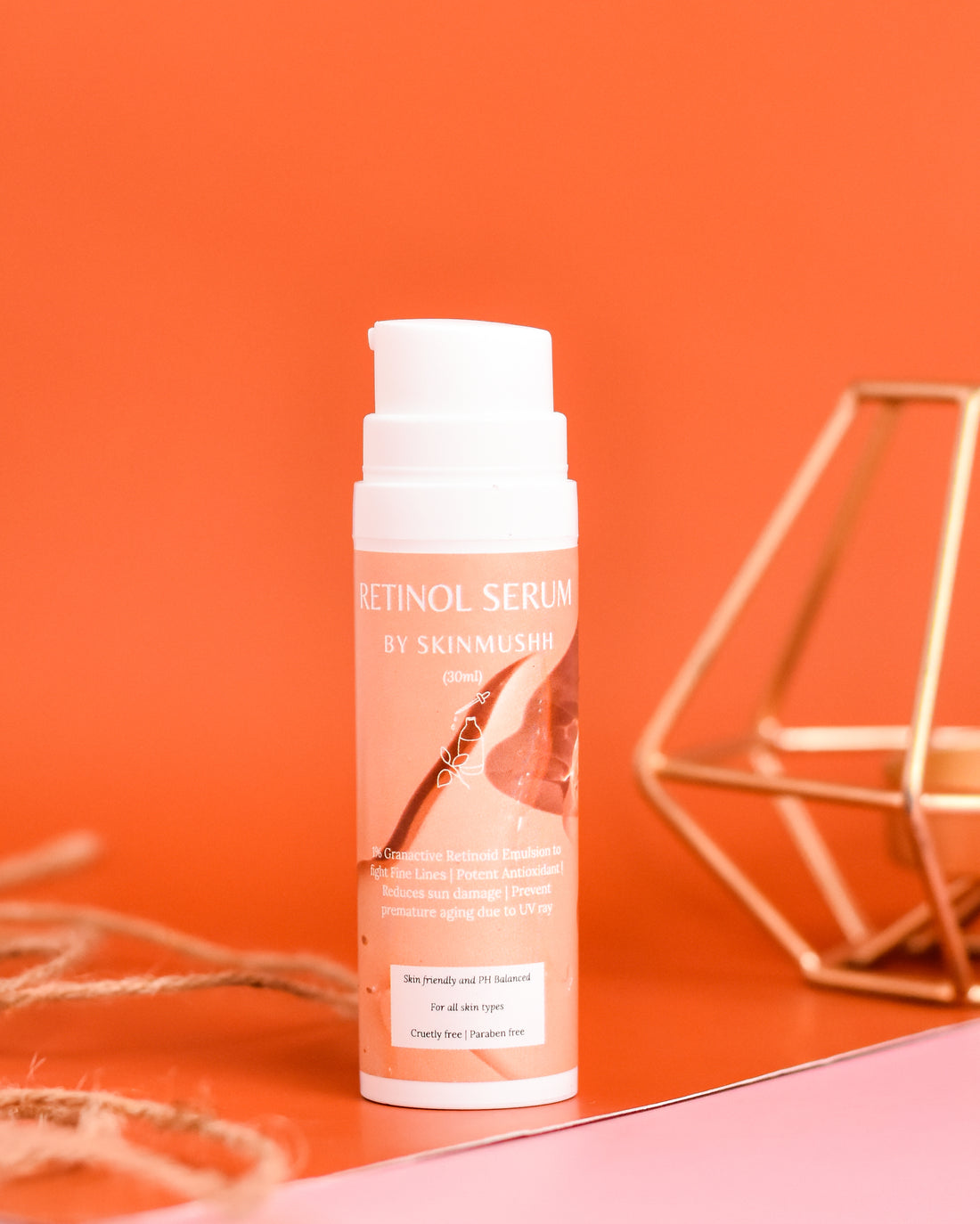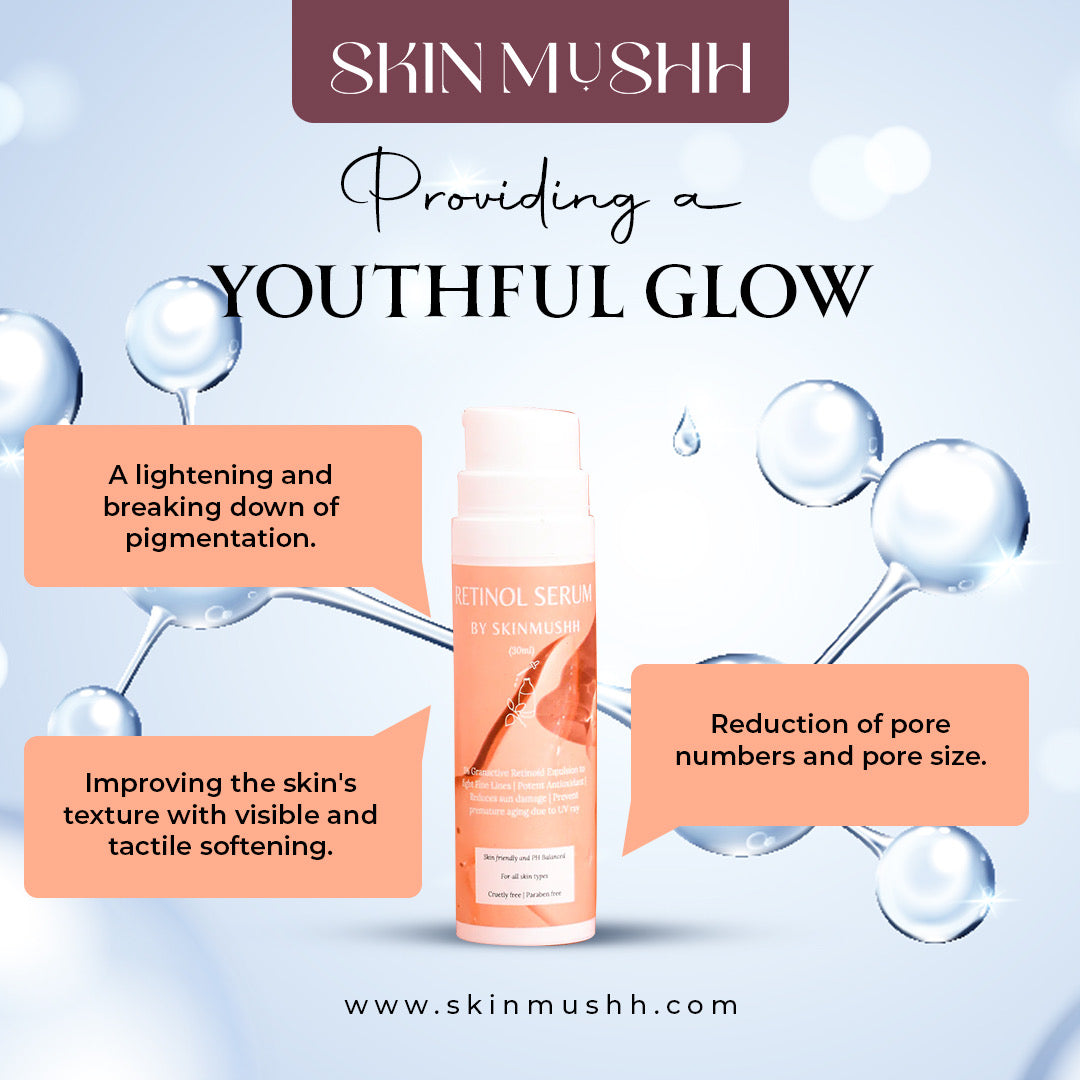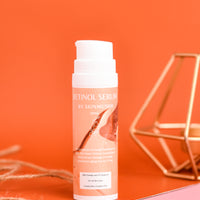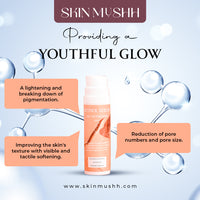 A serum that doesn't let the chills of winter affect your skin! Discovered the recipe with highly potent Hydroxypinacolone retinoate (Vitamin A derivative) to rejuvenate your skin and make it shine like never before!

It is a perfectly balanced serum with modern and Ayurvedic recipes, dermatological tested and the best part, it works for all skin types. It helps in overnight skin treatment, so you don't have to worry about going for expensive treatments to save your skin.
Benefits of our serum : 
A lightening and breaking down of pigmentation.
Reduction of pore numbers and pore size.
Improving the skin's texture with visible and tactile softening.
Providing a youthful glow.
Increased collagen and elastin production.
A reduction of fine lines and wrinkles.
Acting as an antioxidant.
Reducing sebum production.
Improving acne breakouts and blemishes.
Increasing hydration and a plumping effect of the skin.
To summarise, helps the skin glow, shine like a star, reduces dark circles, reduces acne, pigmentation and scars and boosts your skin health.
We wanted to create the best retinol serum in the market considering all skin types can use it so we especially took 6 extra months in its formulation. It's THE GLAM that you must have in your wardrobe.

Looking for a young and healthy skin, then this should be your go to go product. It alters the behaviour of the aged and dead cells which leads to collagen production and modifies your skin texture into glass like smooth. You can highly expect this serum to give you the radiant skin you always looked for as it helps in oxygenation and skin proteins. Nonetheless to say, its gel cream texture acts as an excellent moisturising agent in winters.

- How to use the Glam retinol serum ? (Only use in PM routine)
You can only apply it at night which helps in the overnight treatment of the skin.
1. First, cleanse your skin as you normally would, and dry your face completely.
2. Then, apply a pea size Glam retinol serum on your face and neck.
3. Finish with a layer of moisturizer to seal everything in.

In the morning, layer on a broad-spectrum sunscreen with SPF 30 or higher during the day.


More info : 
Hydroxypinacolone retinoate is the newest member of the superhero vitamin A ingredient family. Hydroxypinacolone retinoate is an ester of retinoic acid and works similar to tretinoin but with little to no skin irritation.
Both retinol and hydroxypinacolone retinoate are excellent ingredients for the skin, however there are some significant differences when choosing which to use in your routine.
Retinol needs to be broken down over several steps to be converted into a retinoic acid. 
One of the significant advantages hydroxypinacolone retinoate has over retinol and other vitamin A derivatives used in active ingredient cosmeceuticals today is that it does not require a conversion to retinoic acid. Once applied to the skin it can bind directly to the receptors allowing a cascade of events to take place which produce the antiaging effects, reduction in pigmentation and blemishes, improving the appearance of fine lines and wrinkles, reducing sebum production, minimising pores and improving skin texture. Furthermore, increased hydration and an improvement in the glow of the skin can also be expected.
The second significant advantage hydroxypinacolone retinoate has over other forms of Vitamin A is ingredient stability. Thermal stress tests have shown that hydroxypinacolone retinoate will remain stable and effective in the skin for up to 15 hours.

So this overall is a NEXT GEN product and what are you waiting for.